Fruit and sweet products to bring out the best in your brand
Whether it's a layer in your yoghurt or the fruity part of a stirred yoghurt - we have some amazing fruit and sweet products to bring out the best in your brand. Our bespoke ingredients can work with the exact pH and acidity of your dairy base to ensure the best flavours are achieved.
We can also supply the ripple in your ice creams - using our technology and understanding of these products - we can ensure you avoid any crystallisation in the finished product - and offer you a real difference in your offerings.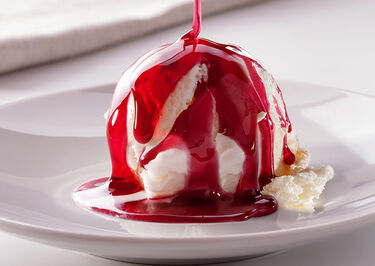 We can supply alcohol-based products such as:
Espresso martini ripple with real rum
Gin & Cucumber drizzle
Passionfruit and prosecco filling
Champagne and Strawberry sauce
...or innovative products like:
Black Cherry filling with diced pieces
British Strawberry & Blackberry filling
Salty fudge sauce
Spicy Black Tea drizzle

Just let us know what you are looking for and we can arrange a presentation or to send you some samples. Remember, nothing is impossible when speaking to our team of development wizards.