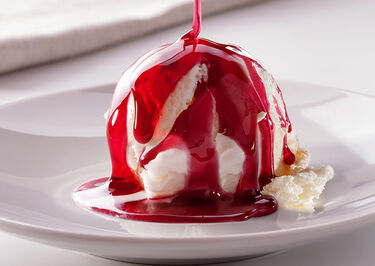 The thought of ice cream can conjure up fond childhood memories of chasing the Mr Whippy van down the street while clutching some coins in our hot little hands.
There can be nothing better in this world than the cold creaminess of ice cream hitting your tongue on a hot summer's day. Ice cream is also a satisfying way to finish off a delicious meal, whether it is after a family dinner or at the end of a posh restaurant meal with your other half.
If you didn't already know, there is actually a lot of science behind why ice cream is such a beloved dessert. The dairy milk used to make ice cream contains a-Lactalbumin, a protein which contains more tryptophan than other proteins.
So when you eat dairy ice cream, this protein can help boost your mood and cognitive functions due to the tryptophan stimulating serotonin release and dopamine production.
When you combine dairy ice cream with other unique flavours and textures, such as crunchy toppings and fruit preparations, you are getting the ultimate taste experience. There is no denying science!
What are Britain's favourite ice cream flavours?
Did you know that seven in ten UK adults list ice cream as their favourite dessert? Ice cream is one of those go-to treats that help cheer people up when they are feeling low.
Brits have had a long love affair with ice cream, and a lot of this is down to its versatility. You can pair ice cream with so many other flavours. It works well to balance out bitter flavours such as coffee and dark chocolate, but it also smooths out overly sweet flavours too, such as honeycomb and caramel.
According to research conducted by Ocado, these are Britain's top ten favourite ice cream flavours:
1. Vanilla
2. Chocolate
3. Strawberry
4. Mint Choc Chip
5. Caramel/Salted Caramel
6. Rum and Raisin
7. Pistachio
8. Raspberry
9. Coffee
10. Cookies and Cream